A Sad but Fond Farewell to Arthur Blair Cowan MBE
November 6, 2015

Kua hinga te totara i te wao nui a Tane
The totara has fallen in the forest of Tane
The funeral of our beloved Patron and founding Trustee Arthur Cowan took place on Wednesday 5th November at St Brides Anglican Church, Otorohanga. Well over 300 people attended to pay their respects and celebrate the life of someone described in 1980 as being one of the great men of conservation in New Zealand.
Arthur was a founding member of the Native Forest Restoration Trust which was formed in 1980 following a campaign against the felling of giant totara in Pureora Forest. A campaign which saw off the bulldozers and led directly to an end of logging in Crown-owned native forests.
In the 1970's, he helped to save kiwi on land being developed in Northland, driving from Otorohanga every Friday night to trap birds and release them in safe areas with a group of others. From the Arthur Cowan Reserve secured with his own funds, to the 30+ separate other properties secured by the Trust, they all stand as a lasting monument to the work of Arthur and others dedicated to conservation in New Zealand.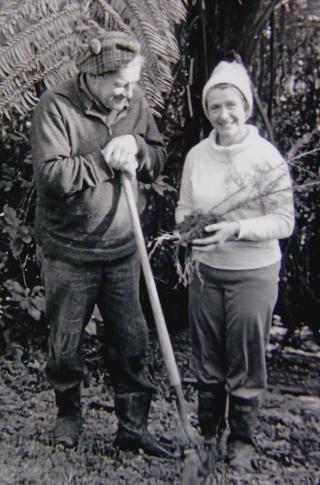 In 1980 he received a citation from the Nature Conservation Council for his efforts to conserve an area of bush of national importance. That same year he was awarded first prize in the individual section for flora and fauna conservation in the Waikato Savings Bank awards. In 1988 he was awarded the Loder Cup, given to individuals and groups who have made significant contributions to plant conservation work in New Zealand. His MBE was awarded for services to conservation.
Around his farm, to nearby properties if there was a piece of arable land that would benefit from flax plants or other seedlings, Arthur would be there with a band of helpers, to dig the holes and plant. Much of his work can be seen around the Otorohanga / Waitomo area, wherever you see a patch of flax and natives as you come into town, you can be pretty sure that Arthur had a hand in either planting, providing or securing where it was to be placed.
The last reserve secured by Arthur alongside Trustees was the 466 hectare Ed Hillary Hope Reserve. A process that took over 8-years was finally completed on the 28th of October 2014. The new Ed Hillary Hope Reserve has approximately 180ha of established forest and over 280ha of farmland well suited for restoration. It lies on the Hamilton–Raglan Road, adjoining the Four Brothers Scenic Reserve. The project will result in the largest area of native bush within 20km of Hamilton and will be a major link in the city's Halo Project.
Arthur greeted the wonderful news from the Ed Hillary Hope Reserve with a broad smile and a big thumbs up! We like to think that Arthur was waiting for the new Ed Hillary Hope Reserve to be secured before leaving us. He passed away peacefully on Sunday, 2nd November 2014, aged 98 years.
Sign Up for our newsletter