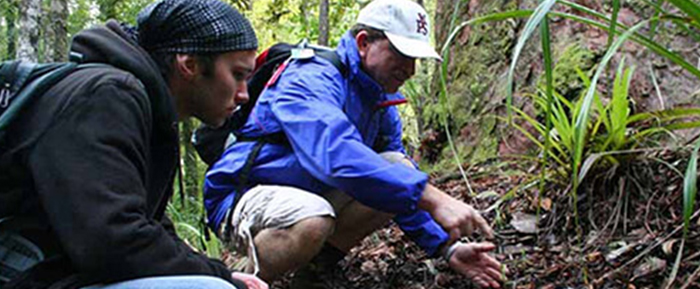 The Native Forest Restoration Trust is dedicated to protecting New Zealand's native forests and wetlands. Not just for today, but for generations to come.
The Trust was formed in 1980 when a group of people got together to protest the felling of giant totara in Pureora Forest. Our ethos remains the same as it was back then – if we all come together, we can achieve extraordinary things.
And we have achieved extraordinary things. Today, the Trust manages over 8,000 hectares of reserves, protected forever for all New Zealanders to enjoy. This has only been possible thanks to our incredible supporters. In comparison to other charities in New Zealand, the Trust is reasonably small, but we believe it would be difficult to find another organisation with such committed and dedicated supporters.
It's thanks to them that we have been able to:
Secure some of the most rare of all the lowland forests in the Tararua Ecological Area at Pigeon Bush near Featherston;
Protect some of the last remaining habitat of the North Island fernbird at the William Upton Hewett Memorial Reserve near Whangarei;
Secure the most northerly forest where hard beech is the dominant forest type at the Steuart Russell Reserve near Awakino…
…and so much more.
Each piece of land that we look to purchase is assessed on its ecological significance, viability for ensuring the long-term sustainability of that particular type of habitat and capacity to naturally regenerate.
When it has been purchased, we place it under a covenant for permanent protection through the Queen Elizabeth II National Trust. A covenant ensures that New Zealand's native species are protected forever. This ensures that the land can never be harvested, cleared or developed.
We appoint an honorary ranger and establish a management plan for the area, often working with local volunteers to carry this out. This often includes making sure that the area is protected from invasive pests and predators through predator-control and plant management programmes, fencing the property to keep stock out and creating paths and information boards for visitors.
We invite you to explore the extraordinary natural beauty that New Zealand has to offer further by learning more about our reserves. You can find their details here. And, if you're committed to protecting New Zealand's natural environment forever, please consider making a donation today. Thank you.
Native Forest Restoration Trust
PO Box 80-007, Green Bay,
Auckland 0643, New Zealand
Email: admin@nznfrt.org.nz
Sign Up for our newsletter