NFRT doubles number of South Island Reserves
September 14, 2015

We're delighted to announce the purchase of our second South Island reserve! The Trust's latest acquisition, situated above Akaroa at the top of the Grehan Valley on Banks Peninsula, takes the Trust's total number of reserves to 29 covering well over 6,500 hectares.
The purchase of the new 192ha Purple Peak Curry Reserve, formerly farmed by the Curry family, was made possible through a three-way funding partnership between the Native Forest Restoration Trust (NFRT), Christchurch City Council and the Rod Donald Banks Peninsula Trust. NFRT contributed $320,000 towards the purchase with the City Council also contributing $320,000 and the Rod Donald Trust $160,000.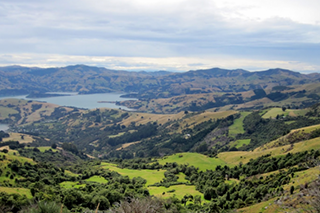 The reserve will be managed by the Maurice White Native Forest Trust (MWNFT) under the watchful eye of Hinewai Reserve manager Hugh Wilson. MWNFT own and manage neighbouring Hinewai Reserve which borders the new reserve to the east.
As with all our reserves we have already taken steps to retire the land from farming. The reserve will be actively encouraged to naturally regenerate into a native forest reserve, protected by QEII open space and City Council covenants. Thanks to the ongoing assistance of the Rod Donald Trust and the Maurice White Native Forest Trust there will be excellent public access. The resulting reserve will not only be a recreational asset but it will also offer significant protection to Akaroa town's water supply.
None of our work would be possible if it weren't for the ongoing support we receive from like-minded organisations, groups and individuals. In short our supporters are second to none and we thank you for helping us to secure yet another reserve!
The new Purple Peak Curry Reserve will officially open early in 2016.
Sign Up for our newsletter