Please Help to Protect Part of Wekaweka Valley Forever
January 27, 2017

The Trust has an amazing opportunity to buy part of Wekaweka Valley in Northland and protect it forever.
The proposed new reserve, totalling around 112 hectares, is the last remaining fragment of its kind in this catchment and joins up with the Waipoua Forest Conservation Park, which is part of the largest remaining forested area north of Auckland.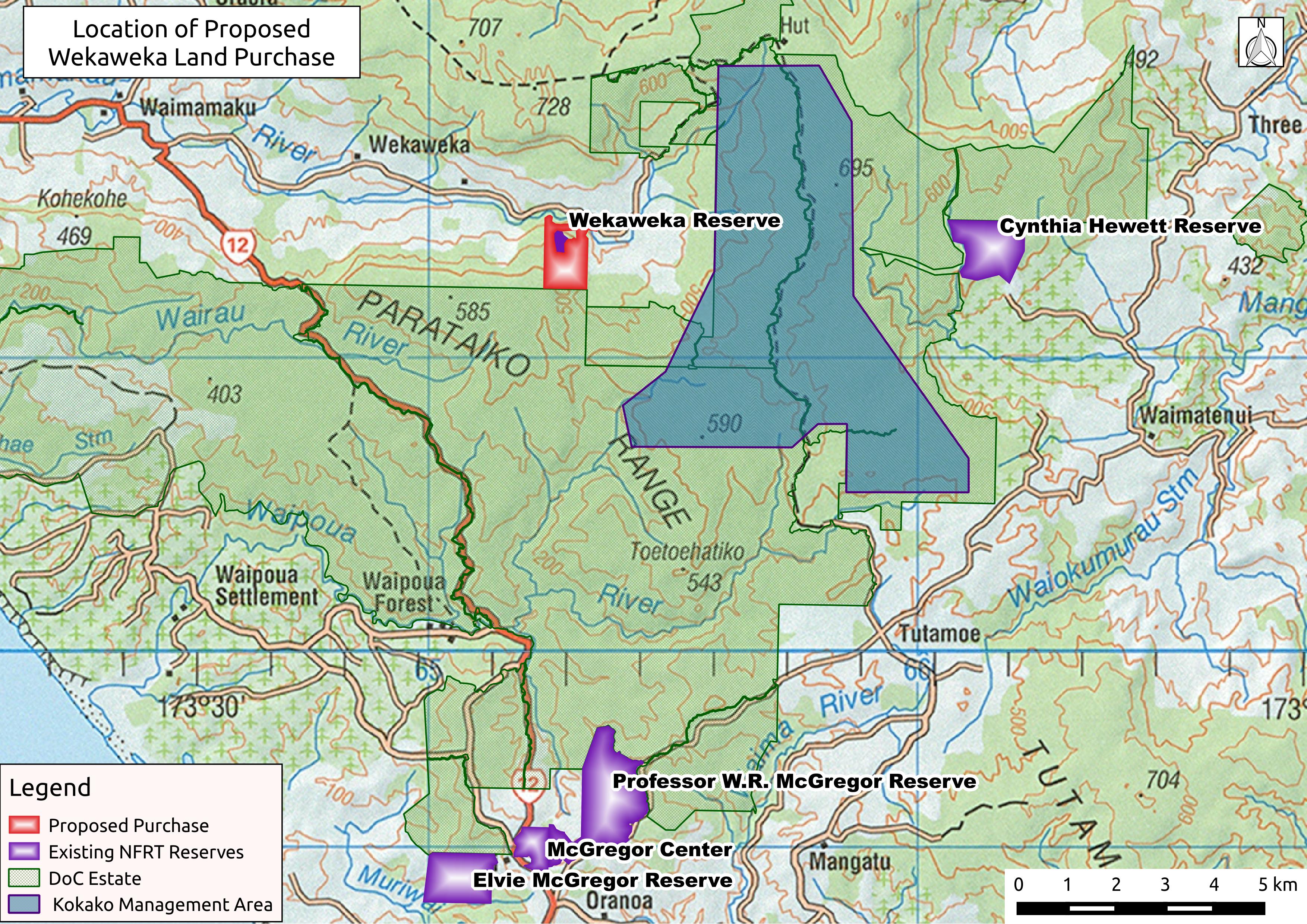 The Waipoua Forest is a really special place. It's internationally significant for conservation and home to our largest Kauri trees, along with a multitude of rare and threatened plants and animals.
There is an abundance of native birds; you might get a peek of a New Zealand wood pigeon, or be accompanied on your stroll by cheeky fantails. Pied tits, tui, grey warblers, shining cuckoos and sacred kingfishers may also put in an appearance for you. At night you can hear the kiwi call – the area is a stronghold for the North Island brown kiwi.
The site is also perfect habitat for kōkako, which live in the surrounding areas. The ongoing predator control work has helped the local kōkako population increase to over 60 pairs and this property will provide the perfect habitat for them to grow into.
Majestic Rata stand tall in the forest, with Kahikatea, Rimu and Swamp Maire all regenerating within the proposed area for purchase. And Scarlet Mistletoe was found close to the site in 2011 – the only known plant in the Northland/Auckland mainland region.
A total of over sixty different nationally threatened species of plants and animals have been recorded in this area. In fact, the area is so special DOC are currently considering giving it National Park status in a proposal to form the Kauri National Park. It really is incredibly valuable habitat for our native species.
This potential new purchase is a mix of original native forest cover and regenerating land after farming. Although parts of the property were farmed in the past, it has been allowed to regenerate for some time already. We identified it as a significant conservation area some time ago and have already purchased two small areas of land that sit within this larger block. By helping us to purchase this area, you will be directly helping to create an important reserve for conservation.
But we have to act fast. The owners are keen for the area to be protected and have therefore given us the opportunity to buy the land at a good price on the understanding that the purchase will be completed quickly. The total purchase price for the property is $185,000 but we already have some of the funds set aside.
Please help protect this important piece of New Zealand's natural heritage by making a donation today. A gift of $250 would cover about 1,500 square metres and help give this forest the best possible protection for current and future generations to enjoy. However, this is just a suggestion to help show how far your money can go.
Yes, I'd like to make a donation today
Just like all our other reserves (over 7,000 hectares now), we'll protect the area forever, for all New Zealanders to enjoy. At a time when our countryside is under increasing pressure from demands from industries such as agriculture and housing, it's more important than ever to make sure we protect our rare and important native forests. Please donate as much as you feel able to.
Thank you for everything you do to help protect our natural environment!
Sign Up for our newsletter