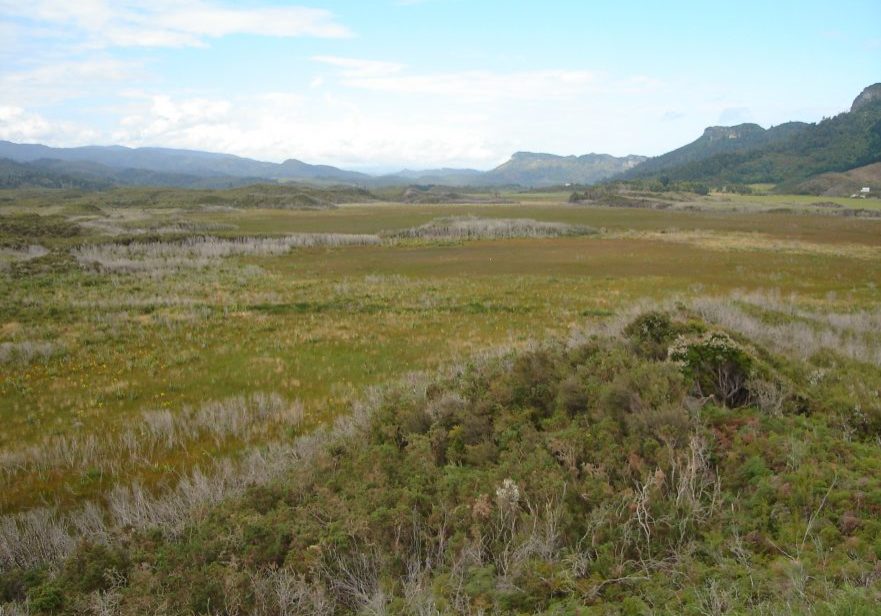 The Mangarakau Wetland reserve has a house available for overnight accommodation. It is well equipped with kitchen utensils. You need only bring food and bedding. From the house there are many walking tracks around the reserve and neighbouring areas, otherwise you can soak up the atmosphere on the verandah or inspect the nearby tree plantings.
Mangarakau Wetland House:
Use of the house is by donation – most give about $10 – $20 per adult per night. Please make your donation when returning the keys. After house expenses have been met, any excess is used for forest restoration. Please be generous! Return keys promptly as others may need them.
The house has a master bedroom and bathroom upstairs with a bunkroom and shower downstairs. It sleeps up to 10 people on bunks and mattresses. There is a gas stove and a wood burner. The house is well-equipped with fridge, toaster, pots and pans, plates and cutlery, etc. You need bring only food and bedding. If sleeping on the bunks, bring a pillowslip and a sheet to protect the mattress. Leave mattresses on edge to air when not in use. In winter bring an extra rug, very warm clothing and good waterproof footwear (boots or gumboots). There is also provision for larger groups at the adjacent hall which was once the Community Hall. It sleeps 12 or more on mattresses on the floor. Others may camp on the lawn outside.
Power switches are downstairs. Hot water switch is in hot water cupboard. Turn everything off when you leave and check that windows and doors are securely locked, including ranchsliders.
Please do not wear outside shoes in the house. If wet, use the downstairs entrance and leave boots there.
There is cleaning equipment in the laundry. Please sweep before you leave and take all rubbish out with you.
Firewood is on the deck, more is undercover by the carpark. Woodburner: put on OPEN when opening door, switch to RUN to retain heat
No Smoking. No Animals.
CAUTION!
The history of Mangarakau has seen many extractive industries which have left a variety of hazards behind – not least coalmines. Be aware of of potential dangers and respect the wetland by keeping to the hard ground.
Access:
Follow the main highway from Nelson through Motueka and over the Takaka Hill. Passing through Takaka continue on past Collingwood to Pakawau.  Take the left road that leads west then south following around the eastern shore of Whanganui Inlet. Where the road leads around the southern end of the inlet the wetland is to your left, although mostly hidden by Manuka scrub and some exotic plantations. As you turn south again the wetland is visible to your left and the Trust house and hall are just opposite the old school.
Maps:
AA Nelson/Marlborough Map, Collingwood Area Topomap NZMS 260 Sheet M25
House Bookings / Day Visitors:
To obtain permission for day visits or to book the house phone Robyn Jones (03) 524 8266 or email
ENJOY YOUR STAY AND TELL OTHERS ABOUT THE WETLAND!
Parent Reserve: Mangarakau Wetland
Sign Up for our newsletter