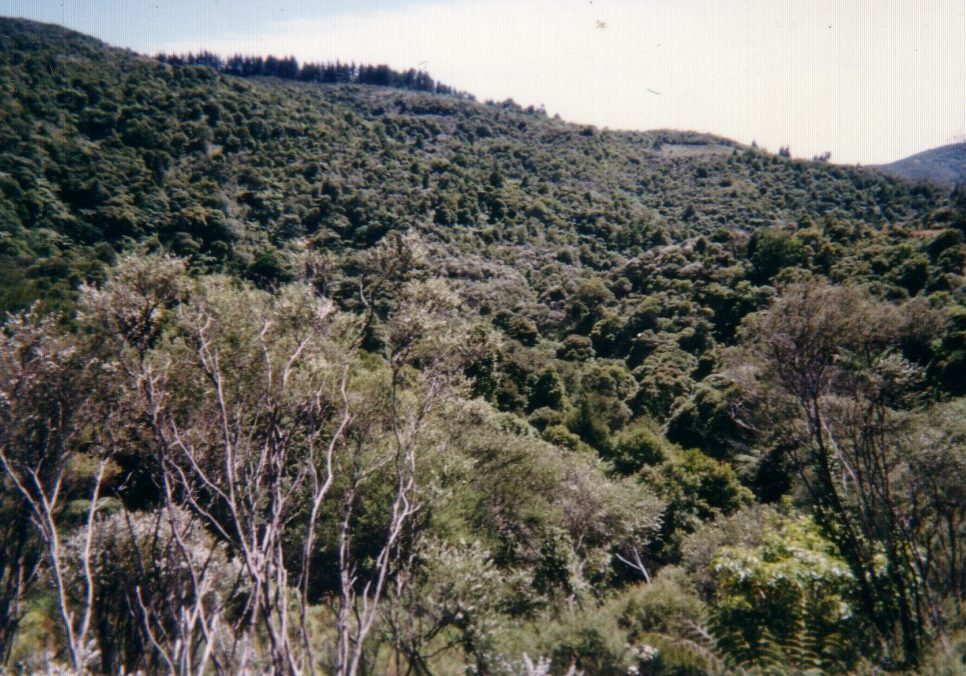 Location
The 294ha Puhoi Far North Reserve is located just off the Honeymoon Valley Rd near Peria in the Far North District. It is a block of mostly mature forest surrounded by regenerating shrubland to the south and east, adjoining the Maungataniwha Forest less than 2km away, and by farmland and pine plantations to the north and west.
History
The Trust purchased  this important habitat in 1995 to save it from logging and pine planting. The last logging took place in 1978 and there are still logging tracks, but the main structure of the forest is still intact and quite diverse.
Vegetation
Most of the area is tall broadleaf/podocarp forest, having a taraire/towai dominant canopy with emergent northern rata, tawa, rimu, rewarewa, puriri, hinau, kohekohe, pukatea, totara and kahikatea. There are dense areas of supplejack and parataniwha. The regenerating areas include manuka, towai, mamaku, tutu and rata vines. There are a number of large puriri, pukatea, northern rata and taraire.
Wildlife
There is a range of habitats within the reserve, providing cover for a rich variety of birdlife including the North Island brown kiwi, kukupa and pied tit. Kauri snail are also present.
Special Values
The forest area is listed as one of the Department of Conservation's sites of Special Biological Interest, and is one of the largest privately protected bush areas in the Far North. It provides habitats for the North Island brown kiwi. It forms part of the catchment of the Peria River, a tributary of the Oruru and Taipa Rivers, thus helping maintain water quality.
Facilities
Old logging tracks provide the main access through the reserve. There are no walking tracks in this reserve.
Management
Animal pests include goats (both farmed and feral), possums, rodents and mustelids.
Plant pests include mistweed, Mexican devilweed, pampas, himalayan honeysuckle and tobacco weed.
No hunting without the express permission of the Native Forest Restoration Trust
How to Get There
Just north of the Maungataniwha Range (between Mangamuka Bridge and Kaitaia) turn off SH 1 into the Peria Valley Rd. At Peria, turn southwards into Honeymoon Valley Rd. Proceed along the road to 490B where is there is a group of letterboxes on the right. There is a road/drive branching off to the right which is the access to the reserve (no sign). The road in is drivable only with 4-wheel drive vehicles with two streams to ford. Entry is at your own risk. Take only right forks until you come to a locked gate. A two-minute walk following the right-hand track will bring you to a cleared site with a seat overlooking the reserve.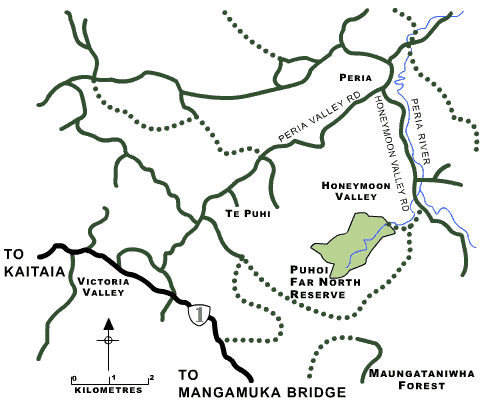 Sign Up for our newsletter