Rangitoto Station walking tracks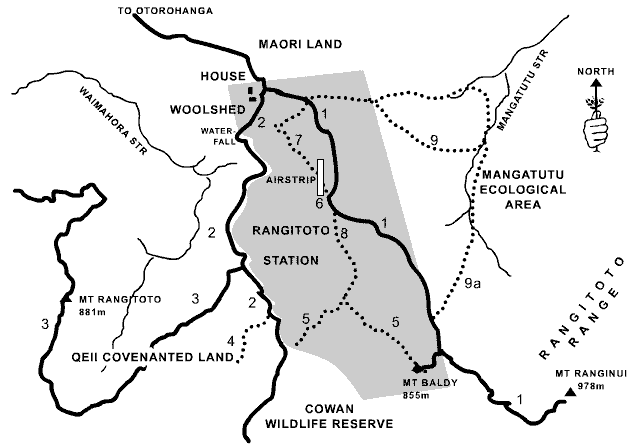 1. Ranginui Trig Road: Begins near the entrance to the Station. To the left is the Mangatutu Ecological Area. Along further there are views to the right down the Owawenga valley. Excellent views and interesting vegetation (Dracophyllum) at the Trig. From the intersection with (5) the road becomes much steeper. (2 hrs or more one way)
2. Owawenga Track: The road you drove in on (Labelled Rangitoto Walk by the Woolshed). The views to the right near the start of the track are down the Waimahora Valley. To hear the kokako in the Cowan Wildlife Reserve, continue along (2) towards the locked entrance gate. Birds have been heard after the Rangitoto Trig Track onwards.
3. Rangitoto Trig Track: Is signposted and begins on the right about 30 min along Owawenga Track. This old 4WD track leads up through attractive regenerating bush on Cowans' QEII covenanted land to Rangitoto Trig. Excellent views. The Trig is 7 min further on from the masts. (1 to 2 hrs one way, quick return)
5. Punga Fence Track: From (1), It can be difficult to locate and goes up through a quarry to the highest point on the Station, the grassy area of Baldy. Good views. From Baldy, follow the punga line down to find the continuation of the track which joins (2) near the Owawenga Stream. If going the other direction, turn left shortly past the stream, head up right off the obvious track at a cleared area with a small rimu. Follow the punga fence line up to a large log then turn left.
6. Zigzag Track: Short track down to (1) from airstrip. Begins a short way south of the concrete structure – sharp left. Joins (1) at the end of the quarry.
7. Airstrip Track: On the right past the stream on the Ranginui Trig Road and about 10 minutes from the house. The quickest route up to the airstrip is past the Woolshed and straight up the hill to meet with the Airstrip Track.
8. Saddle Track: Bush track for trampers. Signposted. The start is from the saddle along from quarry. Connects with (5). A magnificent rimu a few seconds in, and good bird life (robins). It is rough and not regularly maintained.
9. Mangatutu Track: Begins at signpost on left along Ranginui Trig Road about 15 minutes from the house. Goes through kokako territory. (about 3 hrs round trip)
9a. Mangatutu Extension: From Mangatutu Stream back up to Ranginui Trig Road. (Up to 6 hrs for round trip from house)
Reserve: Rangitoto Reserve
Sign Up for our newsletter